PUMA "Profi" / Westgermany um 1985
Eine originale und sehr kurze Puma Sporthose / Fussballhose aus 100% Baumwolle, auch bekannt unter "Keilhose". Made by Puma in Herzogenaurach / Westgermany Mitte der 80er Jahre. Original mit eingenähter Innenhose sowie extra Kordelzug im Bund. Hinten eine aufgenähte Popotasche. Seitlich geschlitzt für bessere Beinfreiheit. Über 35 Jahre alt aber noch nie getragen und praktisch immernoch neu und topfit! Bitte vergleichen Sie Ihre Idealweite mit den ausgemessenen Angaben! Die in Blau gedruckten Werte sind in etwa heute gängige Vergleichsgrössen.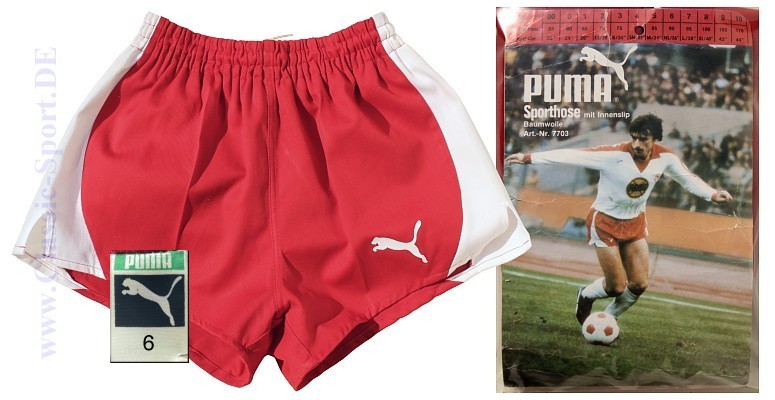 A genuine and very short Puma by 100% Cotton color. Made by Allround in Westgermany in the early 80th. Original without lining. No extra string in waist but the waist rubber tighty and strong still. On back a small pocket. Lateral slited for better moving of legs. Infact new and in best condition still! The oldschool sizes are different like the todays. Please compare your own waist with the measured dimensions!
| | | | | | | | | |
| --- | --- | --- | --- | --- | --- | --- | --- | --- |
| Bund* nicht gedehnt waist not extended | Bund maximal gedehnt waist max. extendet | Seitenlänge length lateral | Oberschenkel- weite* waist of legs | Puma-orig.Gr. | | | Best-Nr article-no. | Preis price |
| 52cm = 20,5" | 85cm = 33,5" | 25cm = 9,8" | 58 cm = 22,8" | 4 | He:44-46 Da: 40 | 32 (SM) | 563 / 4.i | out |

( " = Inches / GB ) i = mit Innenslip
* Die Bundweite ist immer "ringsrum" gemessen / waist around measured
* Die Oberschenkelweite ist nicht elastisch / waist of legs not elastic
vvvvvvvvvvvvvvvvvvvvvvvvvvvvvvvvvvvvvvvvvvvvvvvvvvvvvvvvvvvvvvvvvvvvvvvvvvvvvvvvvvvvvvvvvvvvvvvvvvvvvvvvvvvvvvvvvv
Lieferzeit + Versandkosten / shipment costs
<<< weitere Kollektionen / more than collections