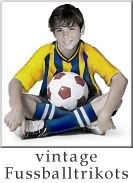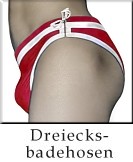 Erima "Patch" späte 80er Jahre
Ein klassisches Sport-Trikot der späten 80er Jahre original von ERIMA / Made in Western Germany (Erima = Erich Mak in Reutlingen, der Erstausstatter der deutschen Nationalmannschaften bis 1976, danach unter Adidas) Also dieses hier ist aus der frühen Adidas-Zeit. Hergestellt aus einem leicht elastischen Material (60% BW : 40% PE), aufwendig aus verschieden farbigen Stoffen zusammengenäht (etwas wie Patch-Work). Immernoch neu und in Bestzustand! Für alle möglichen Sportarten oder auch nur für die Freizeit einsetzbar. Als Set mit Rückennummer oder auch einzeln ohne Flock. Bitte vergleichen Sie Ihre Idealgrösse mit den ausgemessenen Angaben!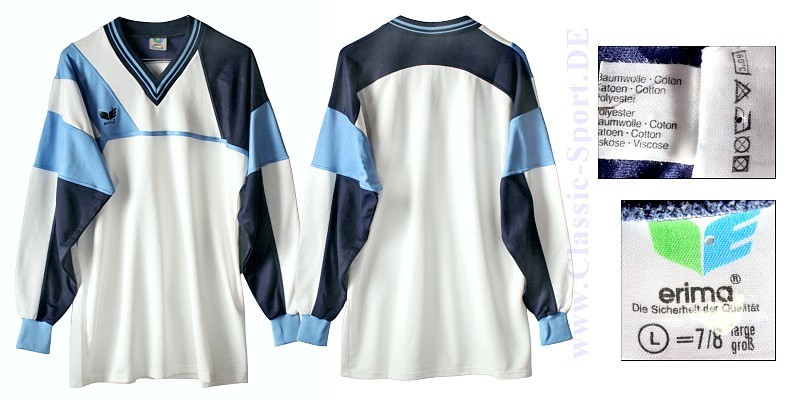 An original ERIMA (by Adidas) sport shirt of the late 80th jears. Made in best quality by an soft cotton-PE-material (60:40%), As set with back-number also. Brandnew still! Please compare your own best waist with my measured dimensions!
| | | | | | | |
| --- | --- | --- | --- | --- | --- | --- |
| Rückenlänge* length of back | Taille / taill | Original-grösse | | | Best-Nr. / article-no. | Preis / price |
| 70cm = 27,6" | 95cm = 37,4" | M=5/6 | He: 48 Da: 42 | 34 (M) | F-252 / M | 24,90 € |
| 78cm = 30,7" | 104cm = 40,9" | L=7/8 | He: 50/52 Da:44 | 36-38 (L) | F-252 / L | 27,50 € |
(" = Inches / GB) * Rückenlänge ohne Kragenansatz gemessen / length of back without collar
-------------------------------------------------------------------------------------------------------------------------------------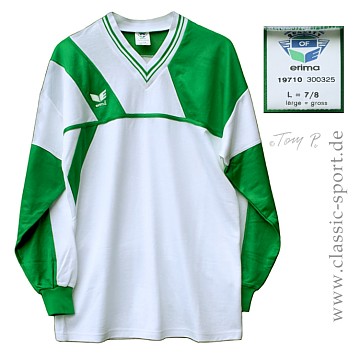 | | | | | | | |
| --- | --- | --- | --- | --- | --- | --- |
| Rückenlänge* length of back | Taille / taill | Original-grösse | | | Best-Nr. / article-no. | Preis / price |
| 70cm = 27,6" | 95cm = 37,4" | M=5/6 | He: 48 Da: 42 | 34 (M) | F-254 / M | 24,90 € |
| 78cm = 30,7" | 104cm = 40,9" | L=7/8 | He: 50/52 Da:44 | 36-38 (L) | F-254 / L | out |
(" = Inches / GB) * Rückenlänge ohne Kragenansatz gemessen / length of back without collar
-------------------------------------------------------------------------------------------------------------------------------------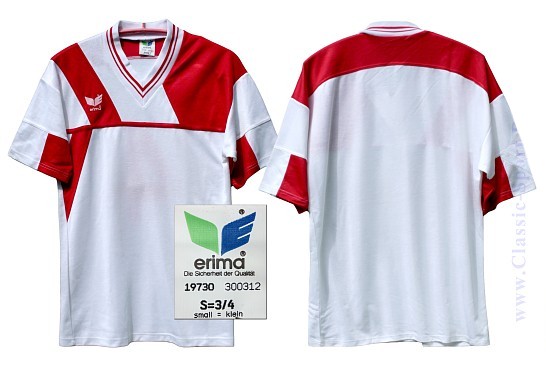 | | | | | | | |
| --- | --- | --- | --- | --- | --- | --- |
| Rückenlänge* length of back | Taille / taill | Original-grösse | | | Best-Nr. / article-no. | Preis / price |
| 56cm = 22,0" | 78cm = 30,7" | XS=1/2 | Jug: 152/164 Da:36 | 26-28 | F-255.k / XS | 24,90 € |
| 64cm = 25,2" | 84cm = 33,1" | S=3/4 | He: 44/46 Da:38 | 30-32 | F-255.k / S | nur im Set* zu 8 Stück |
| 70cm = 27,6" | 90cm = 35,4" | M=5/6 | He: 46/48 Da:40 | 32-34 | F-255.k / M | nur im Set* zu 10 Stück |
| 80cm = 30,7" | 104cm = 40,9" | XL=9/10 | He: 52/54 Da:46 | 38-40 | F-255.k / XL | out |
| 80cm = 30,7" | 118cm = 46,5" | XXL=11/12 | He: 54/56 Da:48 | 40-44 | F-255.k / XXL | 27,50 € |
* Set in Gr. S=3/4 mit Rückenzahl in Samtflock: 2, 3, 4, 5, 6, 7, 8 + 9, Preis: 175,- €
* in Gr. M=5/6 mit Rückenzahl: 10, 11, 12, 13, 14, 15, 16, 17, 18 + 19, Preis: 249,- €
(" = Inches / GB) * Rückenlänge ohne Kragenansatz gemessen / length of back without collar
-------------------------------------------------------------------------------------------------------------------------------------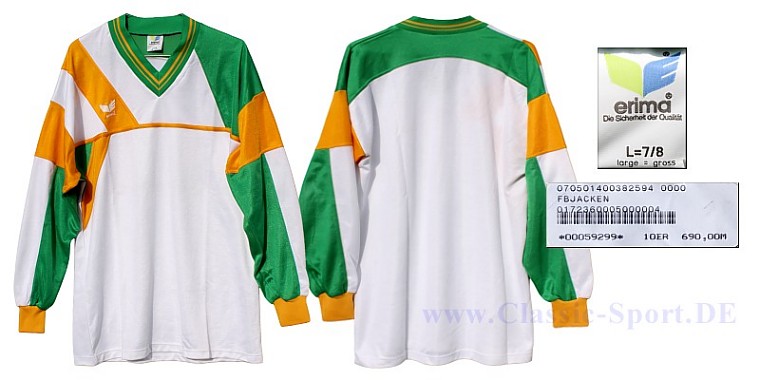 | | | | | | | |
| --- | --- | --- | --- | --- | --- | --- |
| Rückenlänge* length of back | Taille / taill | Original-grösse | | | Best-Nr. / article-no. | Preis / price |
| 78cm = 30,7" | 104cm = 40,9" | L=7/8 | He: 50/52 Da:44 | 36-38 (L) | F-256 / L | 27,50 € |

(" = Inches / GB) * Rückenlänge ohne Kragenansatz gemessen / length of back without collar
-------------------------------------------------------------------------------------------------------------------------------------
Lieferzeit + Versandkosten / shipment costs
...dauzu klassische Erima Fussball-Shorts der späten 80er / bis Mitte der 90er Jahre / classic Erima futbol shorts:
<<< weitere Kollektionen / more than collections