Erima (by Adidas in Portugal) Baumwolle / 90er Jahre
Ein original ERIMA Fussball-oder Handballtrikot der 90er Jahre. (ERIMA = Erich Mak in Reutlingen), der Erstausstatter der deutschen Nationalmannschaften von 1936-76, danach unter Adidas. Made by Adidas in Portugal. Hergestellt aus 100% weicher und fein gekämmter Baumwolle, sehr atmungsaktiv auf der Haut. Der blaue und der weisse Stoff wurde separat vernäht, also kein billiger Druck! Mit angesetztem Kragen und elastischen Ärmelbündchen, ohne Rückenbeflockung. Innen das unter Adidas um 1990 verwendete Erima Label. Aus der Auflösung eines grossen süddeutschen Sporthauses. Ein Top Shirt für Sport und Freizeit. Noch nie getragen und praktisch nagelneu! Die in Blau gedruckten Werte sind in etwa gängige Vergleichsgrössen.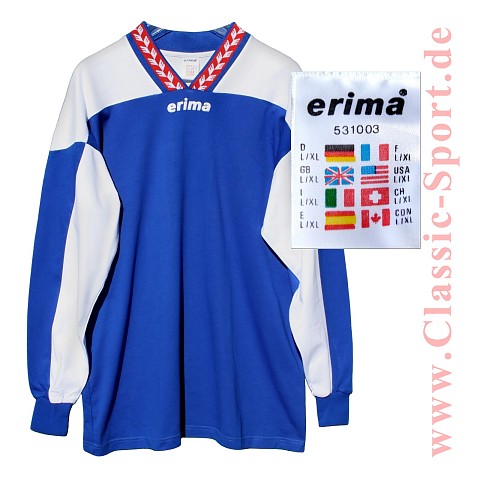 An original ERIMA (by Adidas) sport shirt from the 90er portuguese collection in best quality and condition still. Seawed by a soft 100% cotton-material, Without back-number. Brandnew still! Please compare your own best waist with my measured dimensions! The blue sizes are usual comparables of today.
| | | | | | | |
| --- | --- | --- | --- | --- | --- | --- |
| Rückenlänge* length of back | Taille / taill | Original-grösse | | | Best-Nr. / article-no. | Preis / price |
| 74cm = 29,1" | 118cm = 46,5" | L/XL | He: 50-52 Da:44 | 36-38 (L/XL) | F-66 / L/XL | 27,40 € |
(" = Inches / GB)
* Rückenlänge ohne Kragenansatz gemessen / length of back without collar
Versandkosten / shipment costs:
...klassische Erima Fussball-Shorts / more than classic Erima futbal shorts:
<<< weitere Kollektionen / more than collections
<<< weitere Kollektionen / more than collections
<<< weitere Kollektionen / more than collections