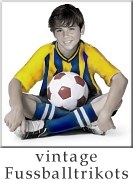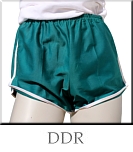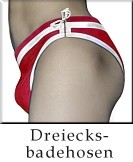 orig. ERIMA "Profi Junior" für kleine Renner
Eine klassisch kurze ERIMA "Profi Junior" aus glänzendem und sehr weichen Polyamid, das absolute Gegenstück der Adidas Beckenbauers. ERIMA = Erich Mak in Reutlingen, der Erstausstatter der deutschen Nationalmannschaften bei EM, WM und Olympia bis 1976, danach unter Adidas. Die "Profi" ist um 1985 hergestellt worden. Also eigentlich eine Adidas-Beckenbauer die sich hier nur durch die Seitenstreifen unterscheidet. Mit dünner Innenhose aus Baumwolle, 3-fach Einzugs-Bundgummi, aufgesetzter Popotasche und zusätzlichem Kordelzug. Stammt aus der Auflösung eines grossen Sporthauses und sind immernoch nagelneu und in Bestzustand! Die in Blau gedruckten Grössen sind in etwa gültige Vergleichsgrössen von heute.

An original westgerman oldschool football shorts by ERIMA, model "Profi Junior" for sporty boys. Made in the early 80th under management of Adidas / Westgermany. This is infact a Adidas "Beckenbauer Junior" with the ERIMA-stripes only… Made by an beautiful soft and shiny nylon With lining by thin cotton, extra string and a little pocket on back. Lateral slited for better moving of tights. From an old german sportswear stock but brandnew and in best condition still! Please compare your kids waist with my measured dimensions!
| | | | | | | | |
| --- | --- | --- | --- | --- | --- | --- | --- |
| Bundweite* waist | Seitenlänge length lateral | Oberschenkel- weite* waist of tights | original- Grösse original-size | | | Best-Nr article-no. | Preis price |
| 44-70cm = 17,3-27,6" elastic | 20cm = 7,9" | 48cm = 18,9" | | Kids:152 | 24 | 213 / 2 | 19,90 € |
(" = Inches / GB)
----------------------------------------------------------------------------------------------------------------------------------------------------------------
| | | | | | | | |
| --- | --- | --- | --- | --- | --- | --- | --- |
| Bundweite* waist | Seitenlänge length lateral | Oberschenkel- weite* waist of tights | original- Grösse original-size | | | Best-Nr article-no. | Preis price |
| 44-70cm = 17,3-27,6" elastic | 20cm = 7,9" | 48cm = 18,9" | | Kids:152 | 24 | 215 / 2 | 19,90 € |
(" = Inches / GB)
----------------------------------------------------------------------------------------------------------------------------------------------------------------
| | | | | | | | |
| --- | --- | --- | --- | --- | --- | --- | --- |
| Bundweite* waist | Seitenlänge length lateral | Oberschenkel- weite* waist of tights | original- Grösse original-size | | | Best-Nr article-no. | Preis price |
| 38-65cm = 15,0-25,6" elastic | 19cm = 7,5" | 46cm = 18,1" | | Kids:140 | 22-24 | 216 / 1 | 17,50 € |
| 44-70cm = 17,3-27,6" elastic | 20cm = 7,9" | 48cm = 18,9" | | Kids:152 | 24-26 | 216 / 2 | 19,90 € |
(" = Inches / GB)
Lieferzeit + Versandkosten / shipment costs
<<< weitere Kollektionen / more than collections