Diadora Glanz-Nylon-soccer von ca. 1995
...eine Fussball- oder Basketballhose aus einem glänzenden und weichen Polyamid in sattem Gelb, hergestellt um 1995 original von Diadora / Italy, mit dünner Innenhose aus Baumwolle in Weiss, breitem Band-Bundgummi, extra Kordelzug und aufgesetzter Popotasche. Seitlich geschlitzt für bessere Bewegungsfreiheit. Nagelneu und in Bestzustand! Die Blau gekennzeichneten Grössen sind zum Vergleichen gedacht. Bitte vergleichen Sie Ihre Idealweite mit den ausgemessenen Angaben!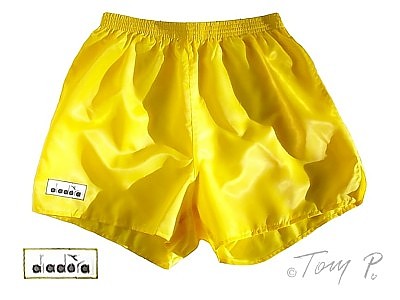 An original classic soccer- or boxershorts by Diadora / Italia. Made by an soft and shiny polyamide material in strong yellow and with thin lining by cotton in white. Lateral slited and a small pocket back and with extra string into waist, infact brandnew and in best condition still! Please compare your best waist with my measured dimensions! The blue colored sizes are comparables of today.
| | | | | | | | | |
| --- | --- | --- | --- | --- | --- | --- | --- | --- |
| Bund nicht gedehnt | Bund maximal gedehnt | Seitenlänge | Oberschenkel Weite | | | | Best-Nr. | Preis |
| 68 cm = 26,8" | 100 cm = 39,4" | 39 cm = 15,4" | | 7 | He: 50 | 36 (L) | 541 / 7 | out |
| 73 cm = 28,7" | 105 cm = 41,3" | 41 cm = 16,1" | | 8 | He: 52 | 38 (XL) | 541 / 8 | 29,90 € |
| 78 cm = 30,7" | 110 cm = 43,3" | 43 cm = 16,9" | | 9 | He: 54 | 40 (2X) | 541 / 9 | 34,90 € |
1" (Inch GB) = 2,54cm
Lieferzeit + Versandkosten / shipment costs
... und hier einige passende Sport-Trikots in vergleichbaren Grössen / more than classic sportswear comparable sizes:
| | | | | |
| --- | --- | --- | --- | --- |
| | | | | |
| Erima Nylon | Erima "Raute" | UHL-Sport | Erima "Raute" | Diadora "Rapid Wien" |
Lieferzeit + Versandkosten / shipment costs
<<< weitere Kollektionen / more than collections
<<< weitere Kollektionen / more than collections
<<< weitere Kollektionen / more than collections