Löffler-Fischer / Austria um 1980
Eine klassisch kurze Kids-Tennishose von Mitte der 80er Jahre. Original von LÖFFLER / Österreich, aus einem luftigen Material-Mix: 85% PE : 15% Baumwolle in Weiss mit Blau-roten Seitenstreifen. Bund mit Druckknopf und Zip. Mit zwei Seitentaschen aber keine Popotasche. Der Bund ist nicht elastisch Vorne am Bein ein schön gesticktes "L"= Löffler-Logo. Noch nie getragen und nagelneu original Made in Austria. Lediglich das Innenschnipselchen fehlt. Bitte vergleichen Sie die Idealweite Ihres Filius mit den ausgemessenen Angaben!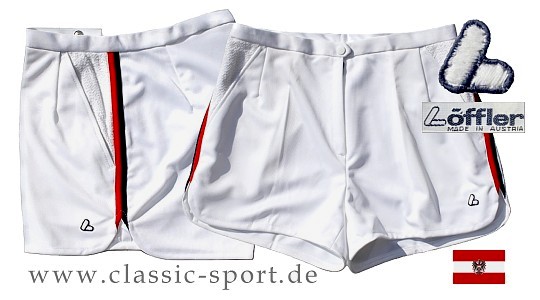 An classic oldschool tennis shorts for Boys original by Löffler / Austria. Made in the 80-tees by an light Polyester-Cotton-Material in white color with lateral stripes in navy-red. With two side bags. Waist with pressure-button and zip, not elastic. This short is from an old south German sportswear stock and infact brandnew still! Please compare your kids waist with my measured dimensions! Waist and tights not elastic!
| | | | | | | | |
| --- | --- | --- | --- | --- | --- | --- | --- |
| Bundweite* waist | Seitenlänge length lateral | Oberschenkel- weite* waist of legs | original- Grösse original-size | | | Best-Nr article-no. | Preis price |
| 60cm = 23,6" | 27cm = 13,4" | 60cm = 23,6" | 36 | Kids.146 | 24 | T-139 / 36 | out |
| 66cm = 26,0" | 28cm = 13,4" | 60cm = 23,6" | 40 | Kids.152 | 26 | T-139 / 40 | 17,50 € |
( ": 1 inch/GB = 2,54cm )
* Die Bundweite ist immer "ringsrum" gemessen / waist around measured
* Die Oberschenkelweite ist nicht elastisch / waist of legs not elastic
Lieferzeit + Versandkosten / shipment costs
...weitere tolle Tennisklamotten in vergleichbaren Grössen / more than tennis wear in comparable sizes:
| | | |
| --- | --- | --- |
| | | |
| Ellesse (Italia) | Anba (AT) | Anba "Camborne" |
<<< weitere Kollektionen / more than collections
<<< weitere Kollektionen / more than collections
<<< weitere Kollektionen / more than collections