Erima "Polo" frühe 80er Jahre, Baumwolle-Mix!
Ein original 80er Jahre Erima-Sporttrikot für alle Ball-Sportarten. Erima = Erich Mak / Reutlingen, von 1936-76 der Erstausrüster der deutschen Nationalmannschaften bei EM, WM und Olympia! Danach bei Adidas. Also dies hier ist aus der frühen Adidas-Zeit in den späten 70er Jahren . Original Made in Westgermany aus 50% Baumwolle : 50% PE in leuchtend Rot mit weissen Ärmeln, leicht elastisch und atmungsaktiv, das Material, aus dem die meisten 80er Jahre Sporttrikots damals genäht wurden. Kein Rückenflock, also auch top für Alltag und Freizeit, immernoch neu und ungetragen! Diese klassischen Shirts wurden früher recht eng getragen. Bitte vergleichen Sie die Idealweite Ihres Juniors mit den ausgemessenen Angaben! Die in Blau gedruckten Werte sind in etwa gängige Vergleichsgrössen.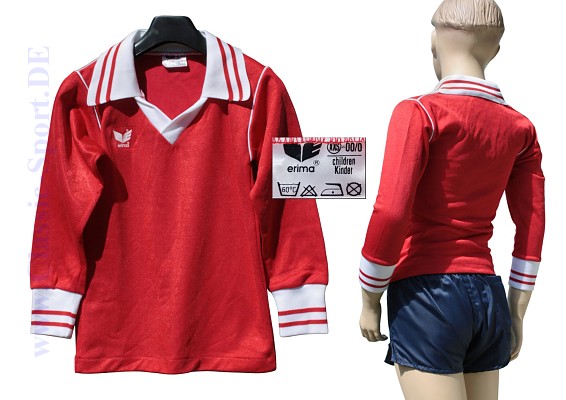 An original ERIMA (by Adidas) sport shirt of early 1980th. Made in Western Germany in best quality and condition still. Seawed by 100% soft cotton-PA-material, Without back-number. Brandnew still! Please compare your kids best waist with my measured dimensions! The blue sizes are usual comparables of today.
| | | | | | | |
| --- | --- | --- | --- | --- | --- | --- |
| Rückenlänge* length of back | Taille / taill | Original-grösse | | | Best-Nr. / article-no. | Preis / price |
| 48cm = 18,9" | 58cm = 22,8" | XXS=1/2 | Kids: 116-128 | 18-22 | F-885 / XXS | 14,90 € |
| 54cm = 21,3" | 65cm = 25,6" | XS=1/2 | Kids: 128-140 | 22-24 | F-885 / XS | out |
(" = Inches / GB)
* Rückenlänge ohne Kragenansatz gemessen / length of back without collar
Lieferzeit + Versandkosten / shipment costs
...dazu klassisch kurze Fussball-Shorts / more than classic futbal shorts:
| | | | | |
| --- | --- | --- | --- | --- |
| | | | | |
| DDR Baumwolle | Erima Baumwolle | Erima "Profi" Nylon | Erima "Profi" Nylon | Erima Baumwolle |
<<< weitere Kollektionen / more than collections
<<< weitere Kollektionen / more than collections
<<< weitere Kollektionen / more than collections
<<< weitere Kollektionen / more than collections